Complete web design services
Whether you're a start-up entrepreneur handling the business yourself, or you're in charge of an entire marketing department at a growing SME, we'll take you from planning through to web launch and beyond.
Our unique process – from initial consultation through to ongoing marketing and support – ensures you get a website that delivers genuine ROI and stays ahead of the competition.
Whether it's gaining more visibility in search and social, driving more enquiries to boost sales, nurturing your leads more effectively or simply having an easier-to-manage web presence, our combined creative and technical expertise will deliver outstanding results.
New Website Design
Creative-led, business-focused websites that will delight your users and deliver real ROI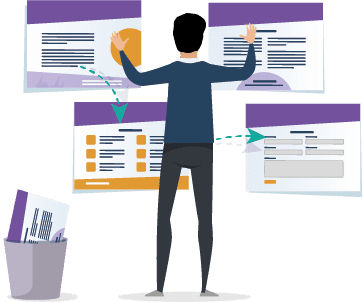 Web Development
The technical know-how to develop, deliver and maintain high-performing, secure and feature-rich websites
Hosting & Support
Lightning fast, secure hosting and a range of full support packages gives you ongoing peace of mind
Secure
All our websites are built with security in mind and include a
Let's Encrypt
SSL certificate as a minimum standard.
Mobile-first
Most consumers start their search on their mobile, and so a web designer will begin their work there for consumer-facing websites, with other devices following.
Mobile-responsive
All our websites are built and tested on smart phones, tablets, Macs, and PCs –we even have a PC in the office –we're old fashioned like that!
User-focussed
Websites that generate more sales and enquiries, are designed for the end-user first,  for the best experience, and then website admins and search engines.
Search engine friendly
All our websites are built to be as readable by search engines as possible; including XML page sitemaps and redirections mapping.
Well structured
We plan website structures carefully for optimum performance and clear navigation
Performance optimised
Speed can affect conversions and search results positions, so all our websites go through a thorough performance optimisation process to make them as fast as possible.
Easily navigable
Easy navigation = fast navigation = more conversions = happy website owners. *
*not a real algorithm
Manageable
Our websites are fully manageable using WordPress. Hosted or supported by us, our customers are fully supported in using the software, including training and ad-hoc support. 
GET IN TOUCH
Had enough of reading? Let's chat!
Contact us to see now to how we can could apply all of this to improve your business.
Production Process
'One of many…'
Briefing
We like to meet all our customers. We'll chat first to understand your business, your marketing, and your goals. We'll build a proposal for you, around your brief and our recommendations.
Planning & SEO
All our projects are carefully planned, enabling us to maximise your return and ensure we optimise your pages as best as possible for users and search engines.
Design
Our designers will produce web design concepts and work with you through an iterative process to evolve the designs until you're happy.
Content
We can (optionally) manage the content production process for you as well; working with our trusted network of photographers, videographers, copywriters, PR consultants, printers, and dog walkers.
Build
Once the designs are approved, we will develop (program) the code to bring it online, to ensure the site works across devices and browsers, and with the required functionality and plugins.
Review & Revise
Once built, we will submit a draft version of the website to you for review, so you can test the site and collate revisions for us to implement. We will revise the site accordingly and re-submit, until you're happy to approve launch.
Quality Assurance
We always conduct a thorough Quality Assurance process; testing on browsers, testing all functionality, security, and performance. Only when a website has passed all of this does it get our seal of approval.
Launch & Warranty
Our launch process not only puts the site live on to the web, we setup tracking, Google Search Console, analytics reporting, and apply our industry-leading 6 month warranty for hosted sites.
Managed Hosting & Support
Unit 23 Space Business Centre, Molly Millars Lane, Wokingham, Berkshire, RG41 2PQ, UK.
Unit 23 Space Business Centre, Molly Millars Lane, Wokingham, Berkshire, RG41 2PQ, UK.